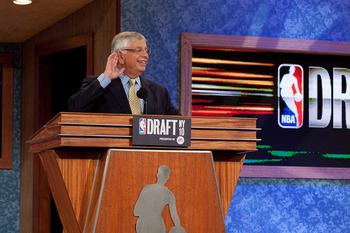 OK Cavalier fans, what happens if we come out of this season winning more than 12 games? What if the Cav's are actually pretty good? Well that could throw a wrench into the Lottery idea. Lucky for us this draft class is deep (no seriously) and it will still be able to give us some great talent in the mid first. Here take a look at some players that may still be there from pick 10 to pick 20.
Brandon Knight  PG
School: Kentucky  Class: Fr.  Height: 6'3"   Weight: 185     Highlight
Quick Look: The 2009 and 2010 Gatorade National Boys Basketball Player of the Year is filling the shoes of last year's first round pick John Wall. Noted to have a high motor and a great passer  with blazing speed. File this prospect under clutch, he won the 2010 McDonald's All-American Game by hitting the game winning 3 ball.
Why Cavaliers?: Knight is a phenom who will be your point guard for the next decade if you draft him. Mo Williams is great now but what about 4 yrs from now, and Ramon Sessions isn't a long term answer.
NBA Counterpart: Think Jason Terry
Terrence Jones  SF
School: Kentucky  Class: Fr.  Height: 6'8"   Weight: 244     Highlight
Quick Look: Terrance Jones was a member of the 2010 McDonald's All-American team and the 2010 Jordan Brand High School All-American team. He led his H.S. to three consecutive state championships. He has handles of a guard and can use his size and athleticism to drive to the basket. He is a tough one on one match up and .
Why Cavaliers?: Cavaliers need a real threat at the 3 and Jones is definitely that guy, big upgrade at the current selection, and his addition will solidify the front court.
NBA Counterpart: Think Lamar Odom
William Buford  SG
School: Ohio State  Class: Jr.  Height: 6'5"   Weight: 205     Highlight
Quick Look: The Buckeye guard most likely has the best looking jump shot in the draft. He doesn't need much time to gather and shoot the ball and is capable at shooting off the dribble or after the catch. Averages 14.6 PPG and 5.6 rebounds. Bufford is entering this year with 904 points and 80% FT accuracy.
Why Cavaliers?:  Anthony Parker is 35 and Cavs need a new starting 2. Gibson is great when used off the bench but is not a true starter.
NBA Counterpart: Think Calbert Cheaney
Rodney Williams Jr. SG/SF
School: Minnesota Class: So.  Height: 6'7"   Weight: 200    Highlight
Quick Look: Williams is a physical specimen, highlight maker and a lethal weapon in the open floor. His cuts for alley oops and passes are unrivaled. Great on offensive rebounds and put backs. His defense is solid with great anticipation where he's able to make his highlight dunks on jumping the pass.
Why Cavaliers?: As mentioned before the starting 2 and 3 are the weakest positions on the cavs, adding a player like Williams may make it one of the strongest (literally).
NBA Counterpart: Think Vince Carter
          Lately I've been hearing from fans how if we actually do well this season we'll be in "limbo" or "purgatory" because we won't be able to get any talented players in the draft. Well these are just a couple prospects at different positions that really caught my eye and I'm excited to see them in this coming up NCAA basketball season. Anyone of these players being in Wine and Gold in 2011 will make me a happy man.